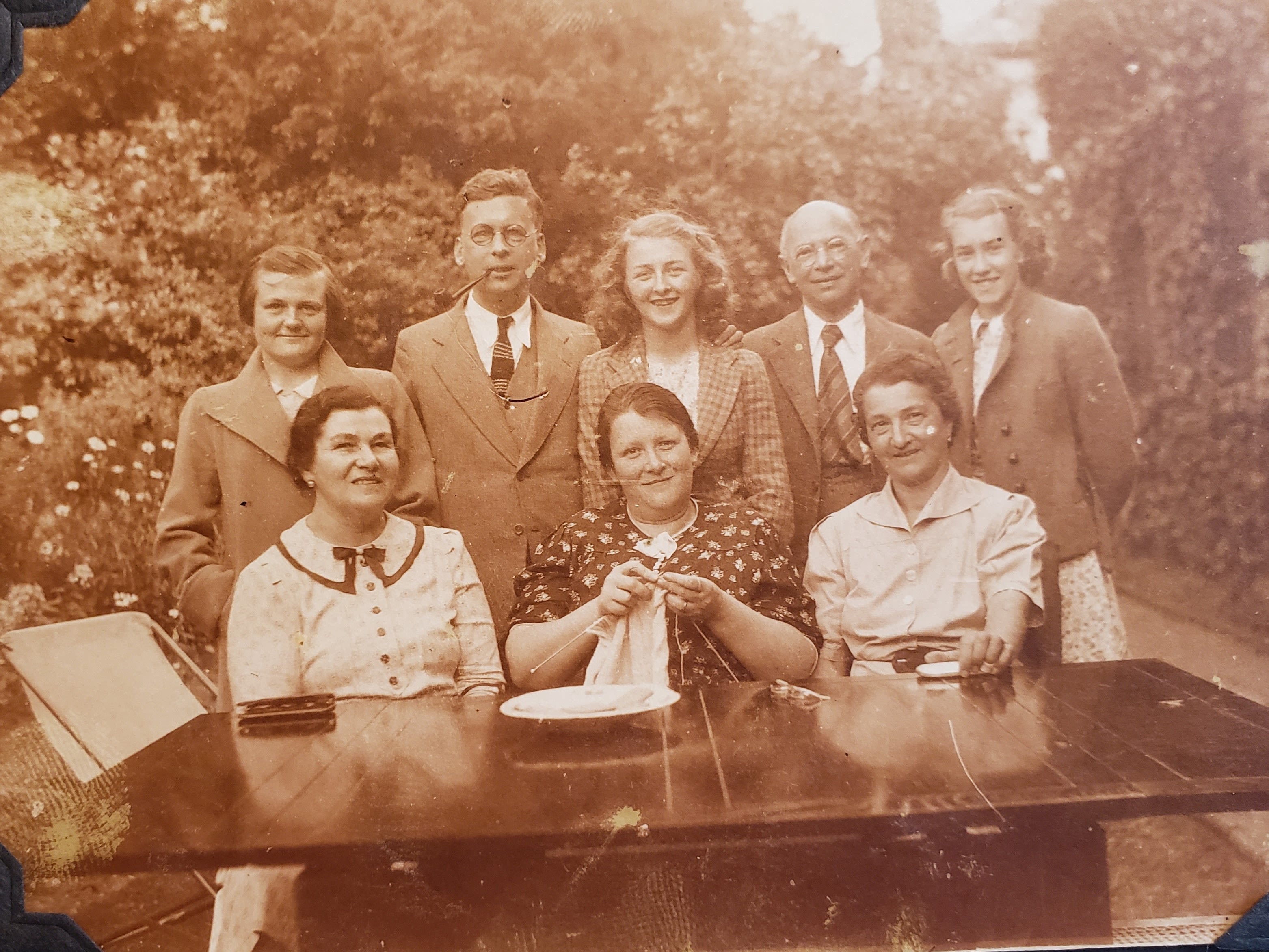 Refugees in Palace House garden during the Second World War (Ball family archive)
Refugees in Palace House garden during the Second World War (Ball family archive)
This online display is a legacy of an exhibition at the National Horseracing Museum in Newmarket in 2022. It is part of the wider 'We have to move on' project by Suffolk Archives, the National Horseracing Museum, and Orchestras Live, which explored the stories of a group of Jewish refugees who lived in Newmarket during the Second World War.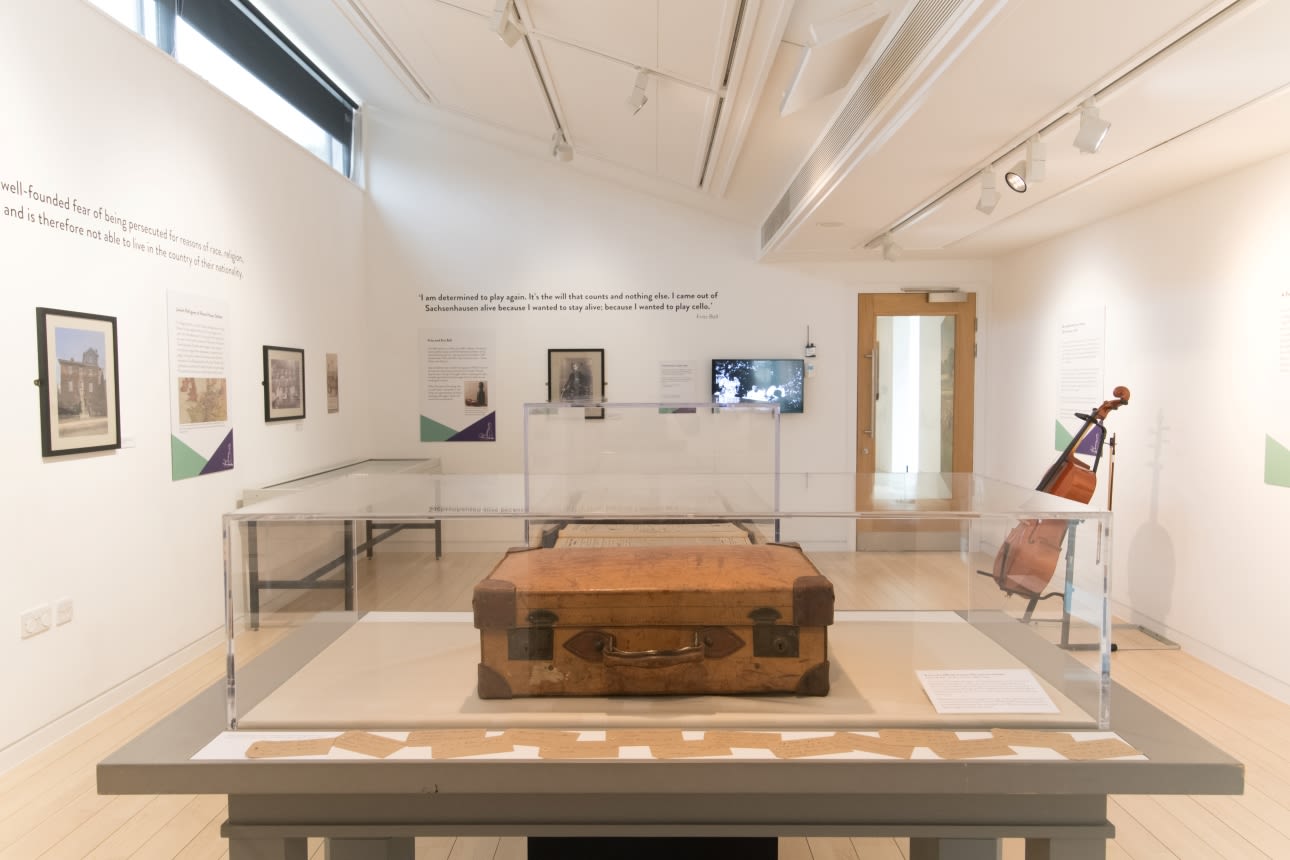 Who are Refugees?
'A refugee is a person who has a well-founded fear of being persecuted for reasons of race, religion, nationality, or political opinion, and is therefore not able to live in the country of their nationality.'
'Interned Three Times'
The 'We have to move on' project was inspired by a memoir written in German by Fritz Ball, a Jewish lawyer and musician who came to England from Berlin, with his wife Eva. They lived in a refugee hostel at Palace House Stables in Newmarket, which is now the National Horseracing Museum. Fritz's memoir was written in 1946 when he and his family were living in America. He wrote about how his life changed under Nazi rule in Germany and his impressions of English culture and society. He titled it 'Interned Three Times' to reflect the periods of imprisonment he suffered.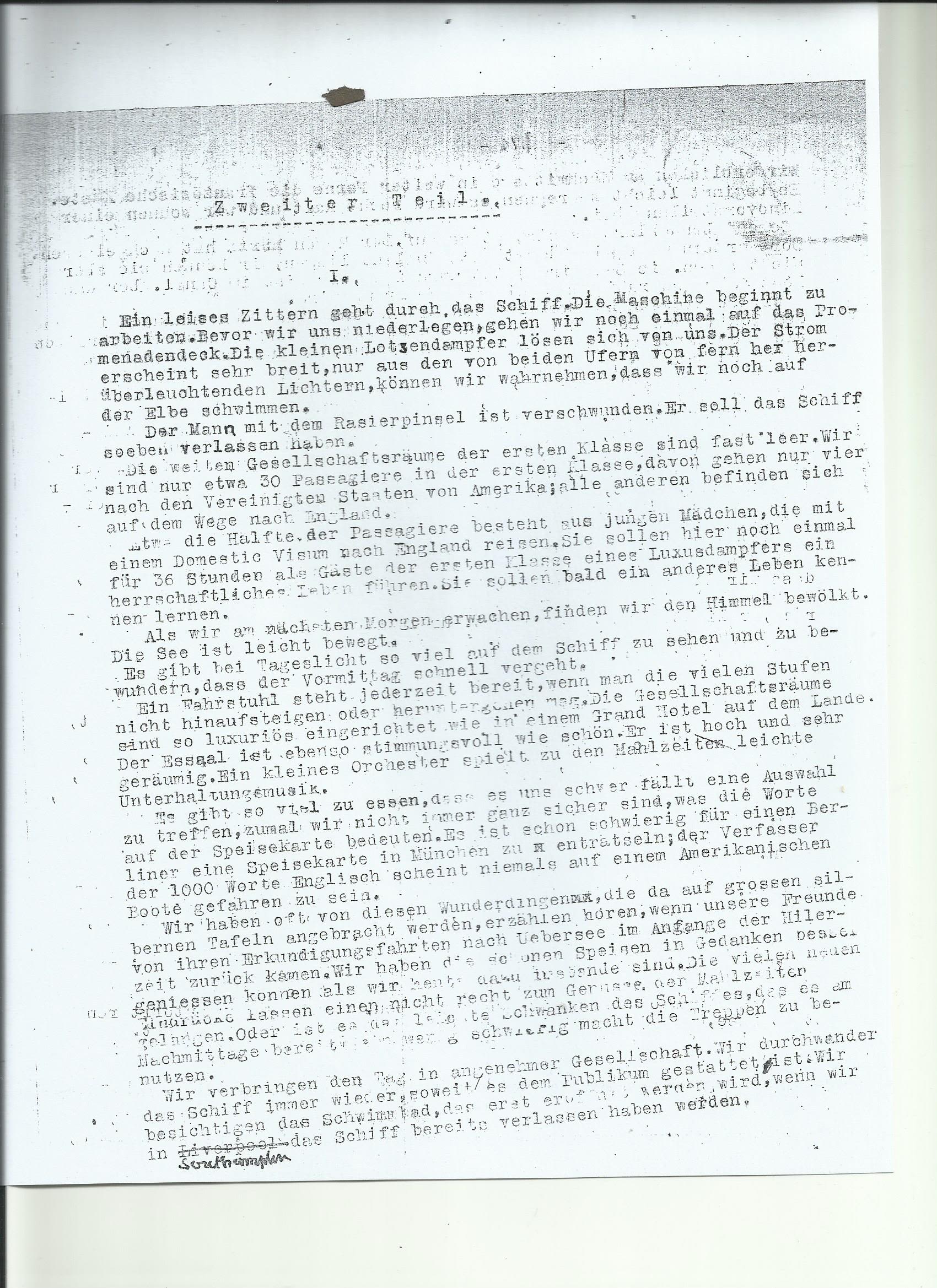 Sanctuary at Palace House Stables
As war loomed, Anthony de Rothschild offered his family home and stables at Palace House as emergency accommodation for Jewish refugees. The United Kingdom entered the Second World War on 3rd September 1939 and in the same month a register of the civilian population in England and Wales was taken. This was used to issue identity cards and ration books, organise mass evacuation and co-ordinate military mobilisation.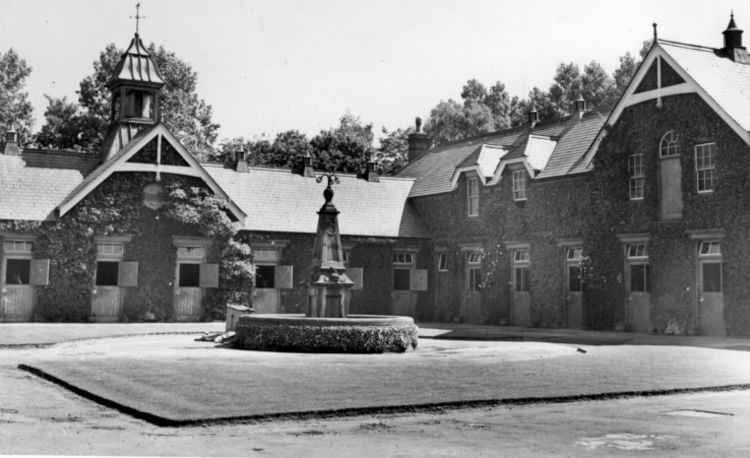 Jewish Refugees at Palace House Stables
The 1939 Register tells us that twenty five refugees were living at Palace House stables at this time. They were all Jewish. The youngest was 3 years old, the eldest was 70. They came from places that are now in the modern countries of Germany, Poland, the Czech Republic, Slovakia and Hungary. Their previous occupations ranged from shopkeeper to supreme court judge. Among the residents were some talented musicians. Fritz Ball played the cello, Kate Fischler was a professional pianist and Frieda Hartstein an opera singer.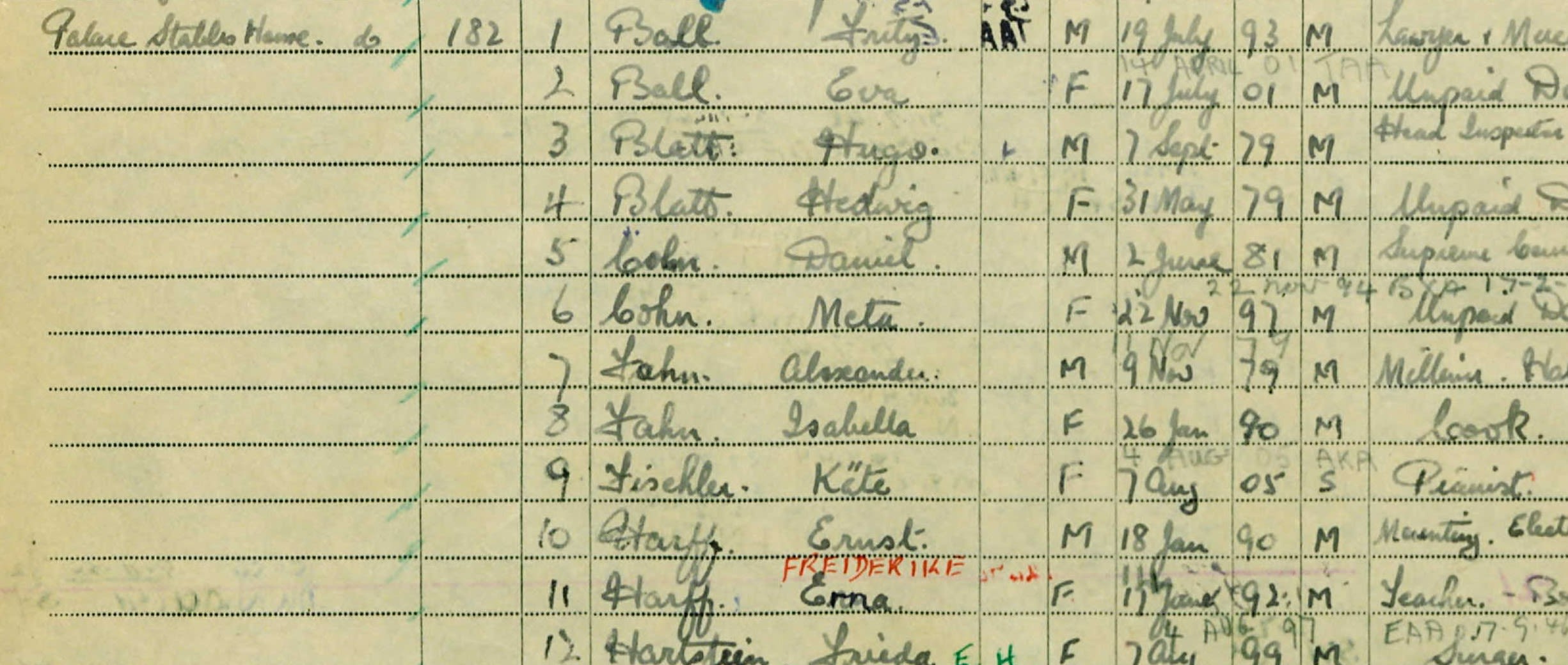 This map shows international borders
within Europe before the Second World War.
The Palace House refugees came from locations across Europe. Each purple dot shows where they were born.
View from the Hostel Front Door
This photograph from the Ball family album shows King's Yard - the view that the refugees saw from their front door. Horses and refugees were separated by a temporary wooden fence.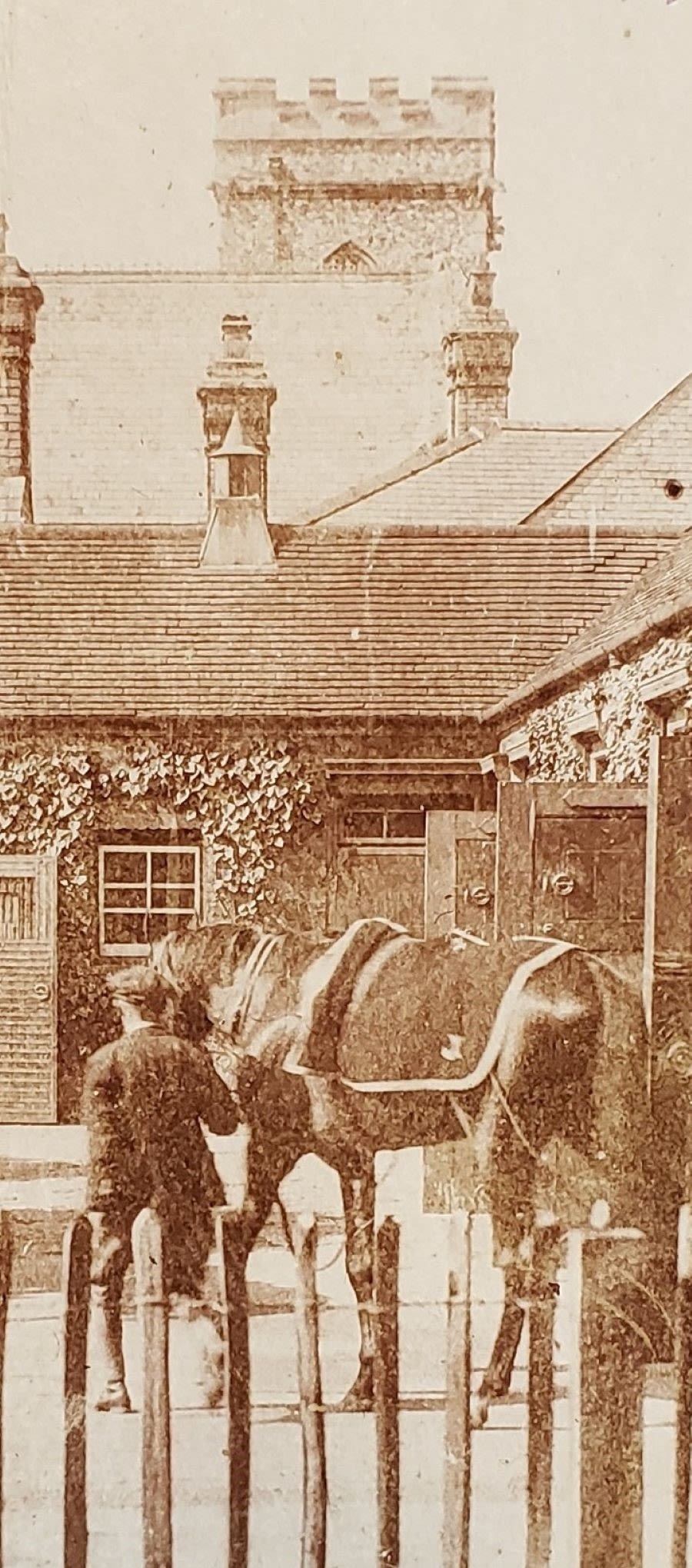 Fritz and Eva Ball
Fritz Ball was born on 19th July 1893 in Berlin. His family were wealthy lawyers and Fritz followed his father, Ernst, into the family law firm. He married Eva Gutfeld in 1921 and between 1923 and 1929 they had three sons – Peter, Dieter and Thomas.
Due to German anti-Jewish laws, Fritz lost his licence to practise law in 1933. He was arrested and held briefly with his brother in Papenstrasse prison in Berlin. Their law firm had to close and Fritz sold soap to earn a living. He sought solace in playing the cello, something he had not had enough time for when working as a lawyer.
'After 20 years of focusing only on paid work, I surrender in the hands of a grand master and start studying cello again. Music will have to be my salvation.'
The last holiday in Germany, 1938
This film captures the last time the Ball family were together in Germany. They are enjoying a holiday at their house in Calau, in the east of the country. Once their main home, by the 1930s it was used for summer holidays. Fritz Ball walks along a path with his three sons, and later drinks tea. His wife, Eva, is the woman in the dress with long sleeves at the tea table. Fritz's brother Kurt stands on a balcony.
'Be careful with your hands. Think of your cello'
In November 1938, during the events of the November Pogrom (also known as Kristallnacht), both Kurt and Fritz were arrested and taken to Sachsenhausen concentration camp. The events came to be called Kristallnacht (Night of Broken Glass) because of the shards of glass that littered the streets when synagogues, Jewish-owned businesses and homes were vandalised.

Fritz was forced to undertake hard labour at Sachsenhausen concentration camp. He suffered frostbite and a medical procedure attempted by another prisoner paralysed his right hand. The damage meant he could no longer hold his cello bow. It took great courage and hard work for him to learn how to play music again.
'I am determined to play again. It's the will that counts and nothing else. I came out of Sachsenhausen alive because I wanted to stay alive; because I wanted to play the cello.'
A Family Divided
After Fritz's release from Sachsenhausen, the Ball family made great efforts to leave Berlin. Their eldest son, Peter (aged 15), was already in America, but there was a two year waiting list for the rest of the family to get in. Friends arranged for Dieter (aged 12) and Thomas (aged 10) to travel to England in March 1939 as part of the Kindertransport; the mass evacuation of Jewish children from Nazi controlled areas of Europe. Fritz and Eva were able to follow in May of that year.

Once in England, the family could not live together but the young boys were sometimes able to visit their parents. In April 1940, a sad Dieter wrote to his parents:
'Thank you very much for your postcard. I am very disappointed that we are not able to go to Newmarket during our holidays, but, as you say, when we get our visa we will be able to be re-united which is all that matters at the moment.'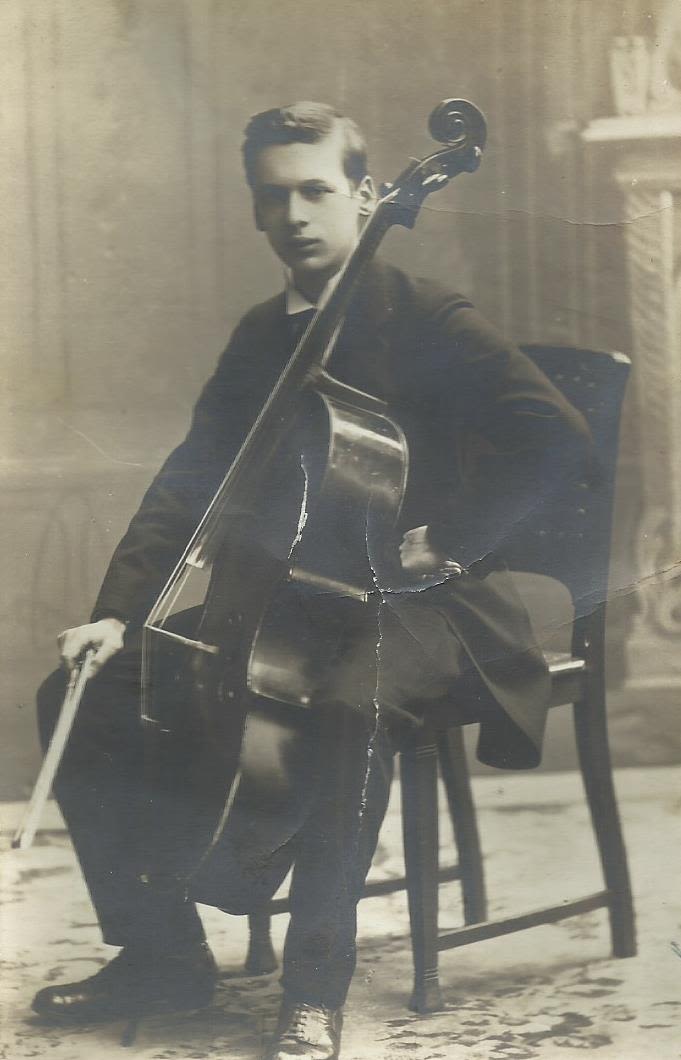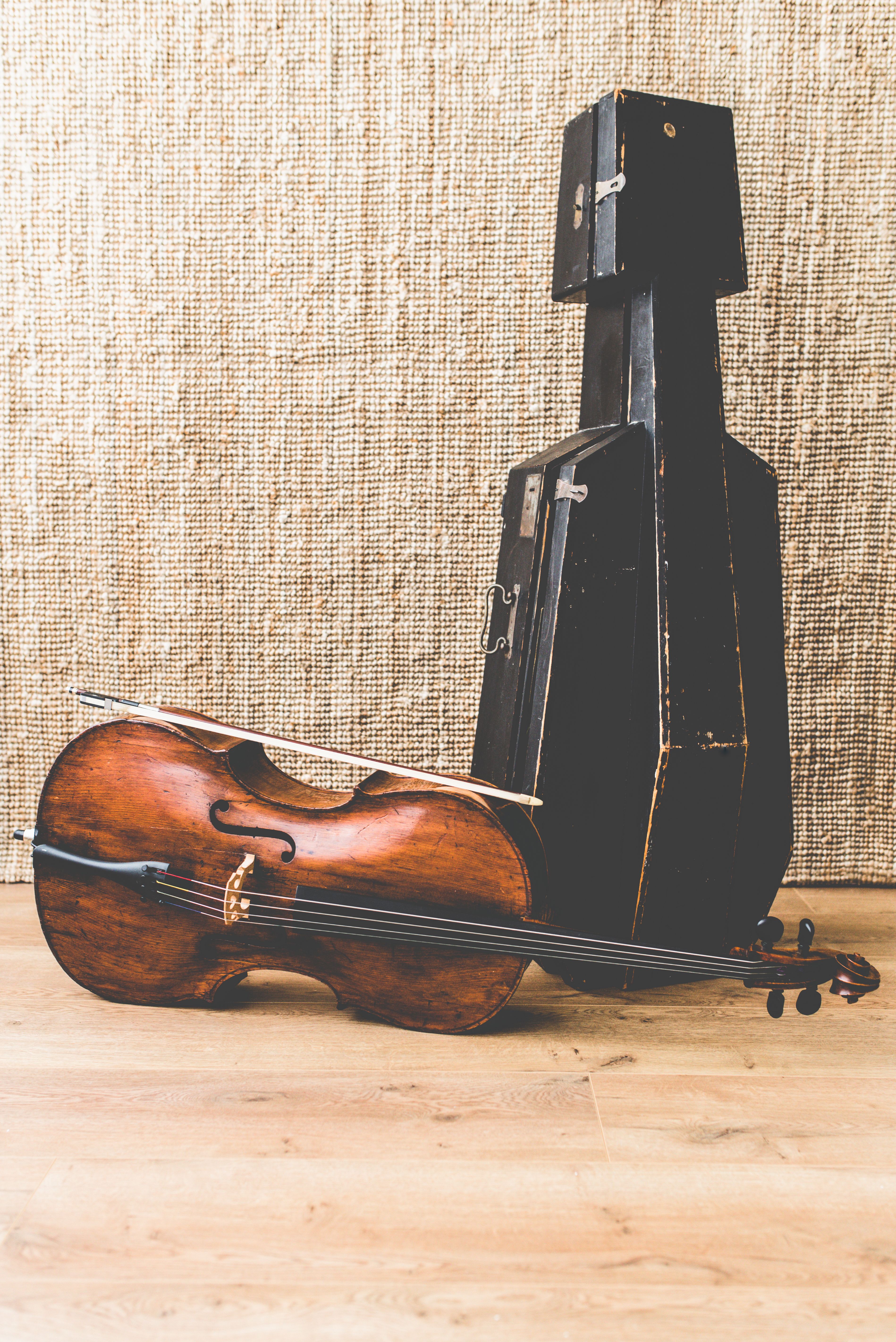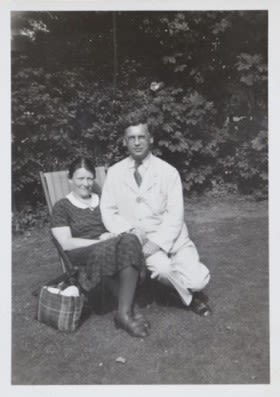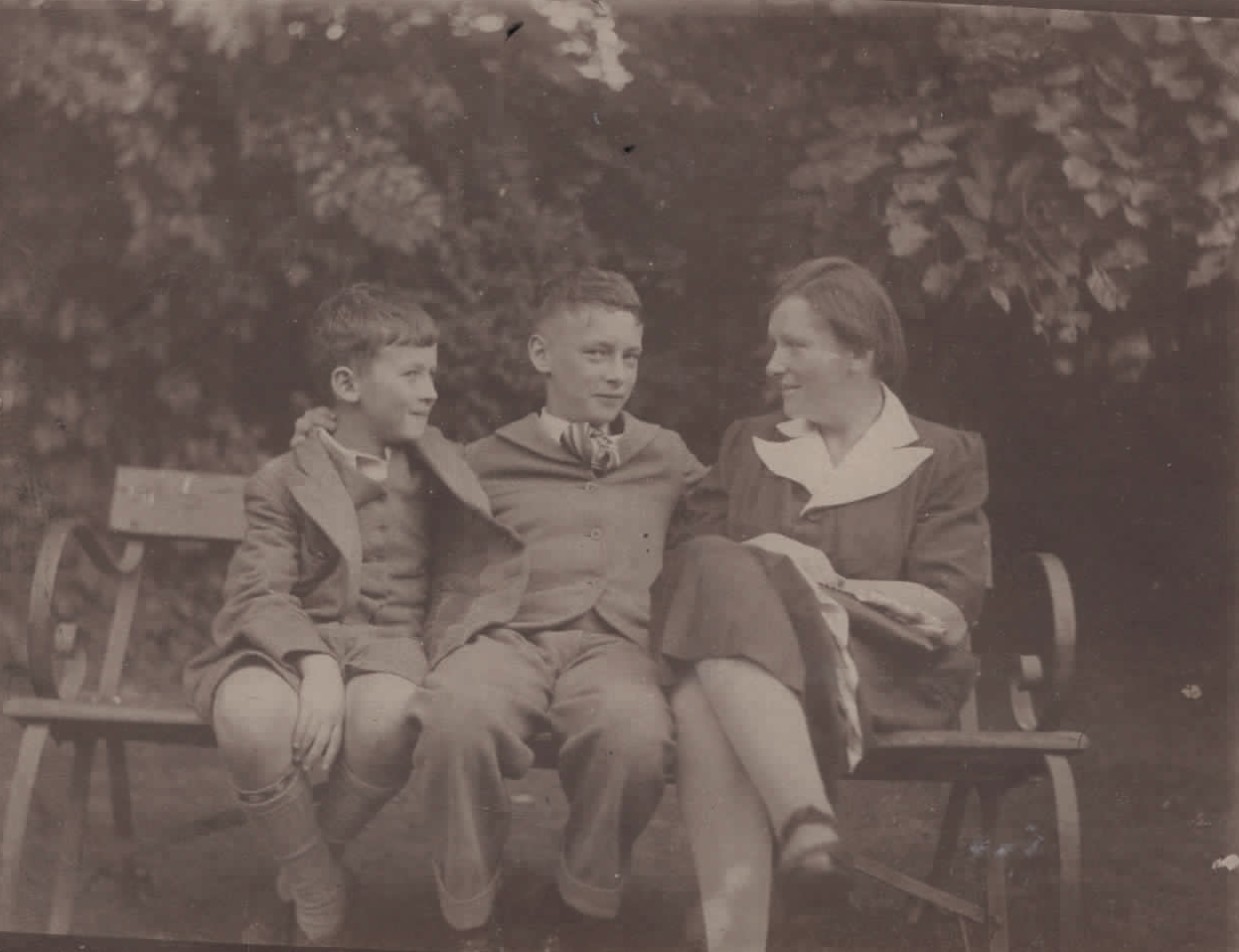 'A delightful programme'
Throughout his time in Newmarket (1939-1942), Fritz performed in public concerts, sometimes as a soloist and sometimes in small groups. He often played with the other musicians in the house and they received excellent reviews.
Please click on the YouTube image to hear Judit Merenyi and the Franz Liszt Chamber Orchestra play 'Godard's lovely Berceuse'.
'From the artistic standpoint, the concert given by the Palace House refugees on Friday afternoon January 5 in All Saints Hall Newmarket was the best concert of the season ...





' ... solos by Dr Ball, the finest cellist that we have heard in Newmarket for many a day, were exquisitely rendered. His numbers included Col Nidrei (Bruch), Ave Maria (Schubert), Godard's lovely Berceuse and La Cinquaintaine (Marie).'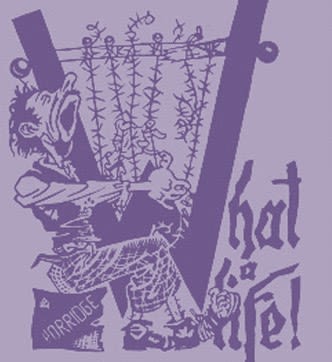 'All the love and gratitude we felt for England has disappeared in one day.'
In May 1940 everything changed yet again. Fritz was arrested and interned by order of the British government. He was imprisoned three times in his life: twice in Germany and once after he arrived in England. He wrote in his memoir:
'To be interned twice because one is viewed to be a Jew and not a German and then to come here and to be interned because you are a German is too much for us.'
Like many Jewish refugees, Fritz was interned in a camp on the Isle of Man. Fritz became friends with other musicians there. They gave concerts to fellow inmates and one of his friends, Hans Gál, a well-known composer, created an entertainment based on camp life. It was called 'What a Life!' Fritz played the cello part at the opening night.
Fritz was released back to Newmarket in September 1940, after it had been decided he was not a threat to the UK.
A Family Reunited
Fritz and Eva Ball emigrated to America in 1946, finally reuniting with their eldest son Peter, whom they had not seen for seven years. Their two younger sons had to travel separately but they were all eventually able to be together in New York.

The family all became US citizens. Peter, Dieter and Thomas went on to have families of their own.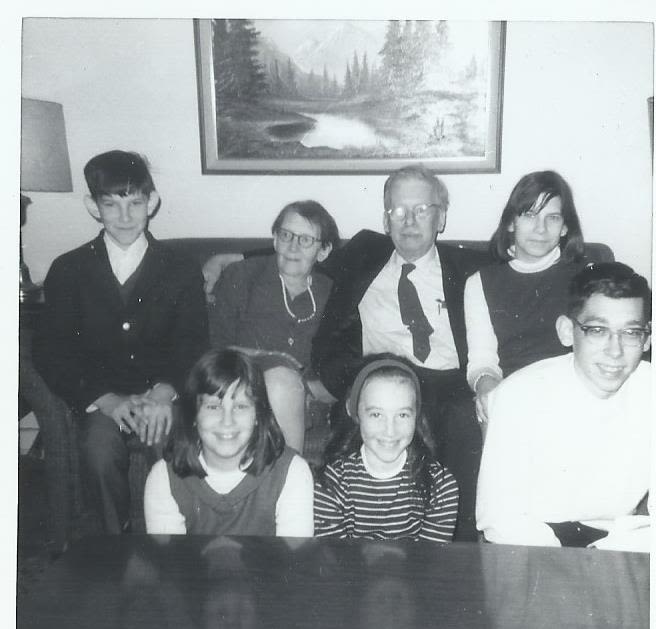 Kate Fischler
Pianist, Kate Fischler, was one of Fritz and Eva's fellow residents at Palace House Stables. She was born on 4th August 1905 in Breslau, Germany, which is now called Wroclaw and is in modern-day Poland.

In January 1940 Kate gave a concert with other refugees in All Saints church hall. The reporter described her as 'a really brilliant pianist'.

After the war Kate moved to London before emigrating to New York, where she became a US citizen. She continued to give concerts, performing well into her seventies.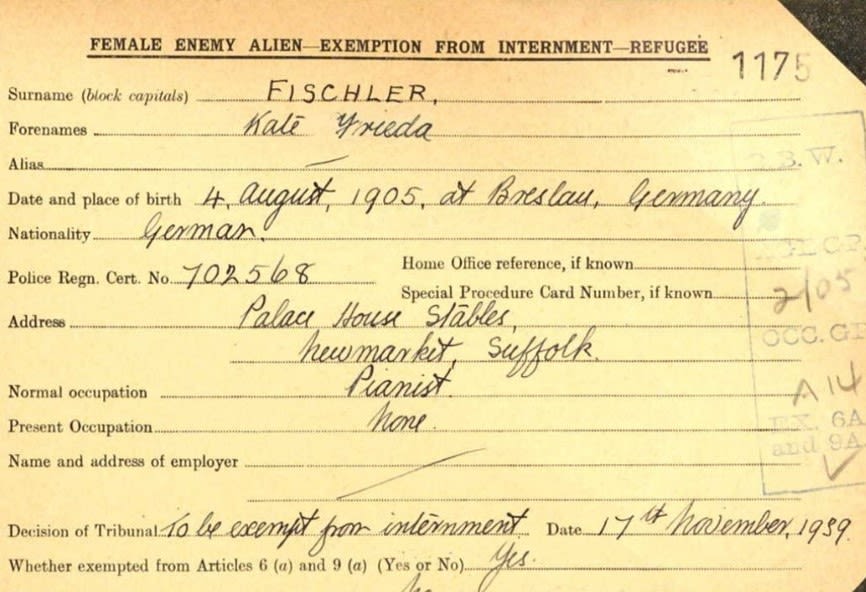 Frieda and Peter Hartstein
The third musician in the hostel was Frieda Hartstein, born on 4th August 1899 in Berlin. She was a professional singer and sang with the Berlin State Opera. She married Dr Max Hartstein in 1935. By this time, Nazi decrees had limited the work Jewish doctors could do and the couple left Germany.

Their son Peter was born in London in 1936. Frieda and baby Peter stayed in England, but Max returned to Germany.

Separated from Max, Frieda and Peter came to Palace House Stables in 1939. She performed in concerts with Fritz Ball and Kate Fischler to great acclaim.

Peter was just old enough to go to school and he attended All Saints Infant School in Newmarket. The school continues to this day and is located next-door to the National Horseracing Museum in Vicarage Road.

As a young adult, Peter studied at Edinburgh University and qualified as a dentist.
Max Hartstein
Back in Germany, Max was sent by the Nazi authorities to work in labour camps in German-occupied Poland. His role, it seems, was to give what medical care he could to workers - many of them Jewish - forced by the Nazi government to build roads and highways.

When the German war effort switched to the Eastern Front in 1943, these labour camps closed and many of the inmates were sent on to death camps. Max was murdered in Auschwitz in August 1943.
Frieda last heard from Max in 1942 through the Red Cross. In November 1945 she placed an appeal to find her husband in Aufbau, an American newspaper for Jewish refugees. Frieda spent many more years looking for Max and it seems that she never found out what exactly had happened to him.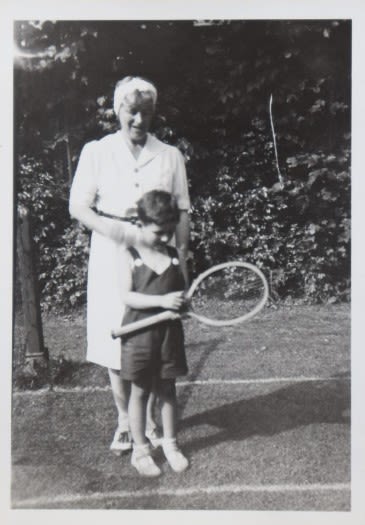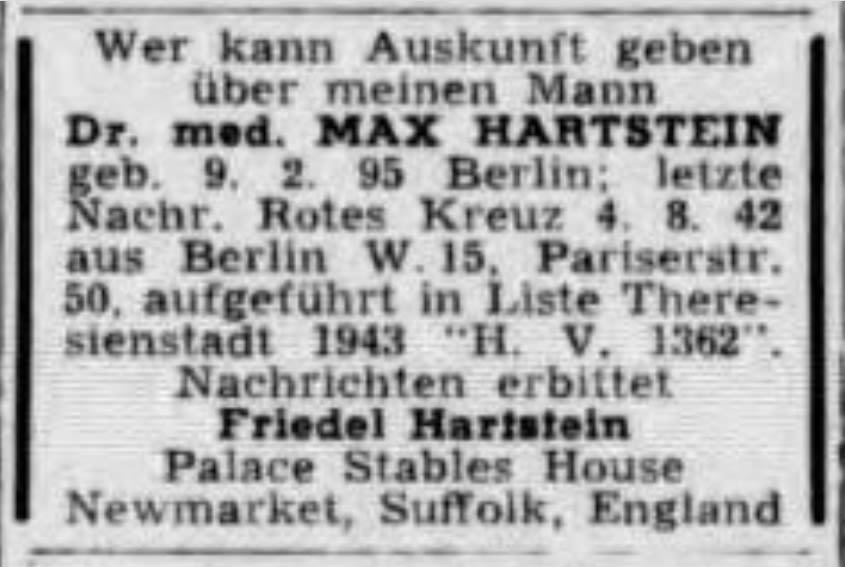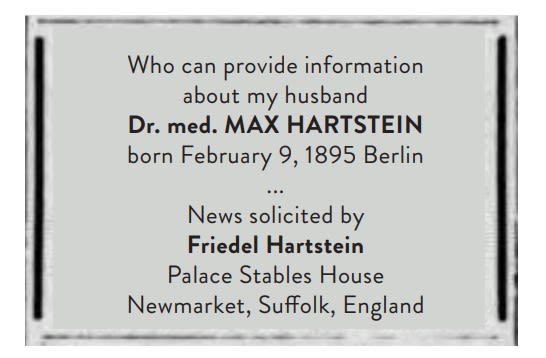 Who helped the refugees?
Across Suffolk, committees of volunteers came together to support refugees from Nazi Germany. Concert parties, church collections, sausage suppers and bazaars were just some of their fundraising events.
In Newmarket, the refugee support committee was chaired by Canon T.R. Browne, a central figure in town life. Fritz Ball described him in his memoir as 'incredibly sympathetic, open and friendly'.
Fritz wrote that another member of the support group was 'a very fancy dressed Jewish lady, who is immeasurably rich'. Fritz does not give this lady's name, but she may have been Lady Anna Neumann who was very wealthy, Jewish and a Newmarket resident for many years.
Historian and lifelong philanthropist, Dorothy Ellis, was another key member of the committee. As well as befriending the Palace House Stables residents, she also took several refugees to live with her in her own home.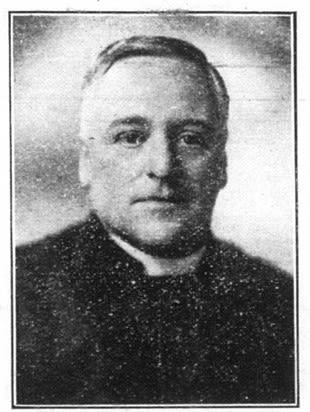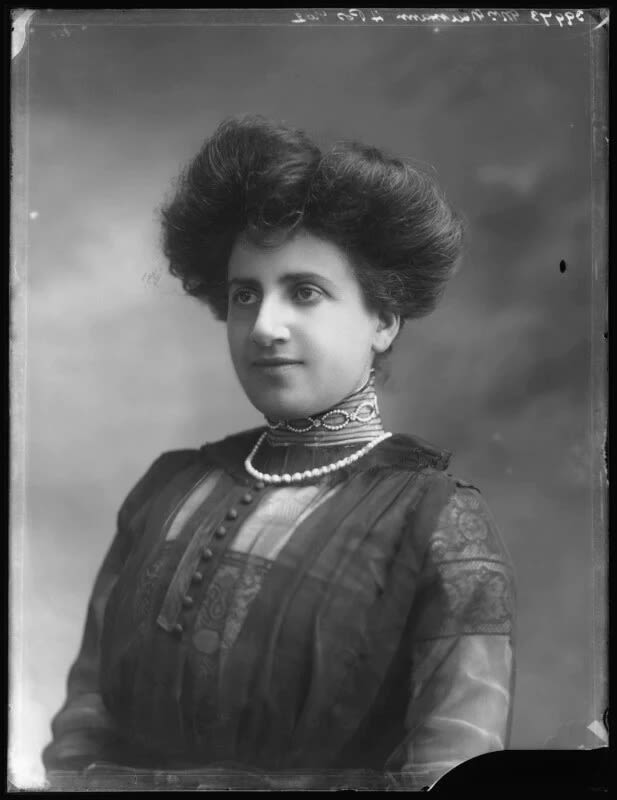 What would you bring?
The Palace House refugees arrived in England with little more than the clothes on their backs and the few things they could carry.

Please take a moment to imagine how you would cope if you felt forced to leave your home and your country, like these refugees fleeing their homeland. What would you try to cram into a bag? What would you choose to take to begin a new life elsewhere?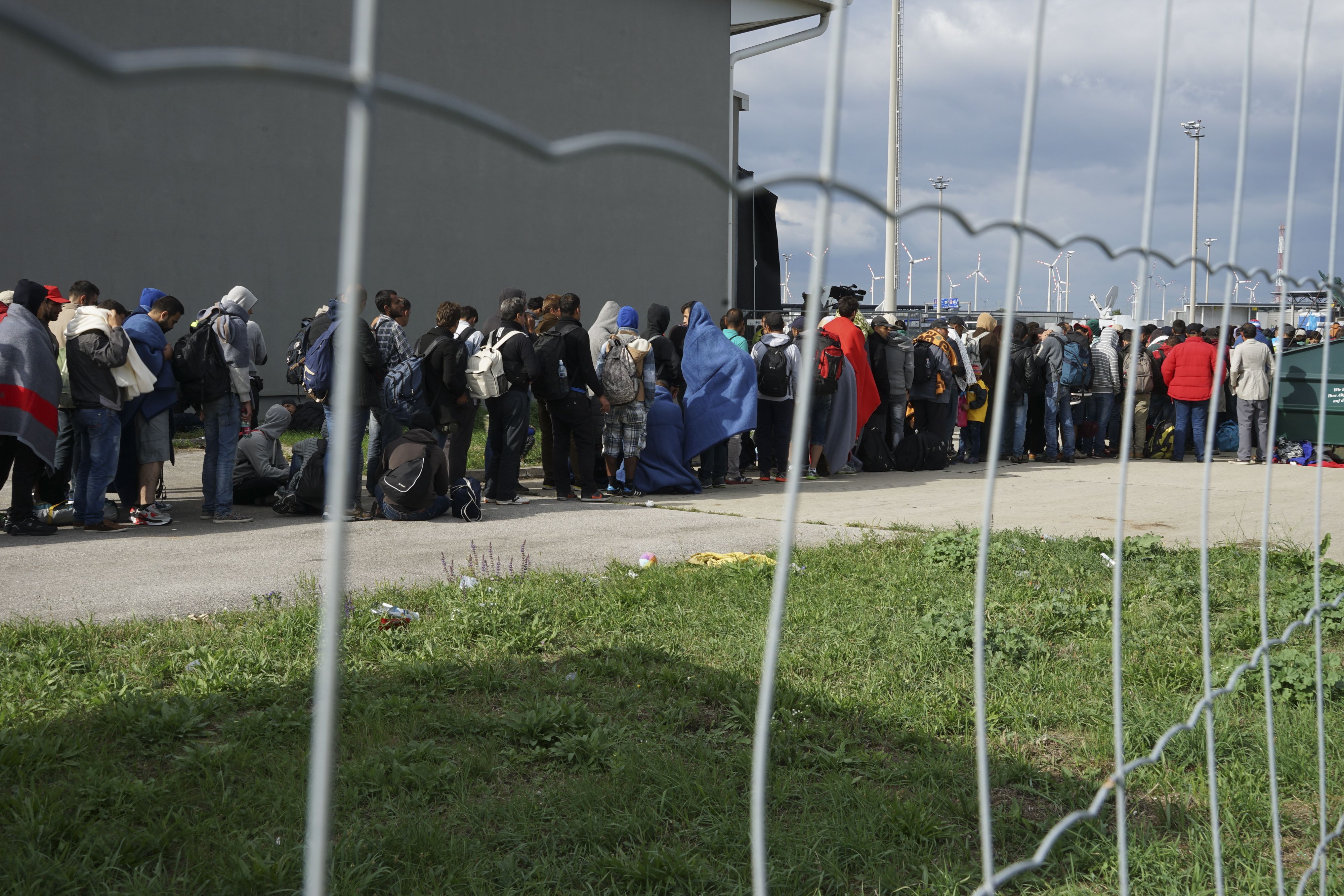 Bringing the stories to life
To bring the story of Fritz Ball to life, Orchestras Live collaborated with Suffolk Archives, Britten Sinfonia and the National Horseracing Museum to create music and theatre - a creative exchange exploring migration and tolerance.

Two performance events took place. The first marked Holocaust Memorial Day 2022. For this, a string quartet from Britten Sinfonia performed music familiar to Fritz Ball interspersed with his story told by students from Newmarket Academy and his granddaughter, Sandra Ball.

The main event was on 4th July 2022, also at the National Horseracing Museum. Composer Sarah Freestone and choreographer Tom Hobden worked with young musicians and dancers to create a collaborative piece for live performance with Britten Sinfonia. You can see how this concert came together on the Suffolk Archives YouTube channel below.
Although Fritz's memoir is a rich historical source, very few traces of the other Palace House refugees' time in Newmarket remain. A team of volunteers working with Suffolk Archives and the Ball family spent many months painstakingly tracking down the scant traces of their lives in newspapers, photographs and registers. The team was especially excited when Claire Duncan contacted them. She had an album of photographs of the Palace House Stables refugees, taken by her father while visiting them.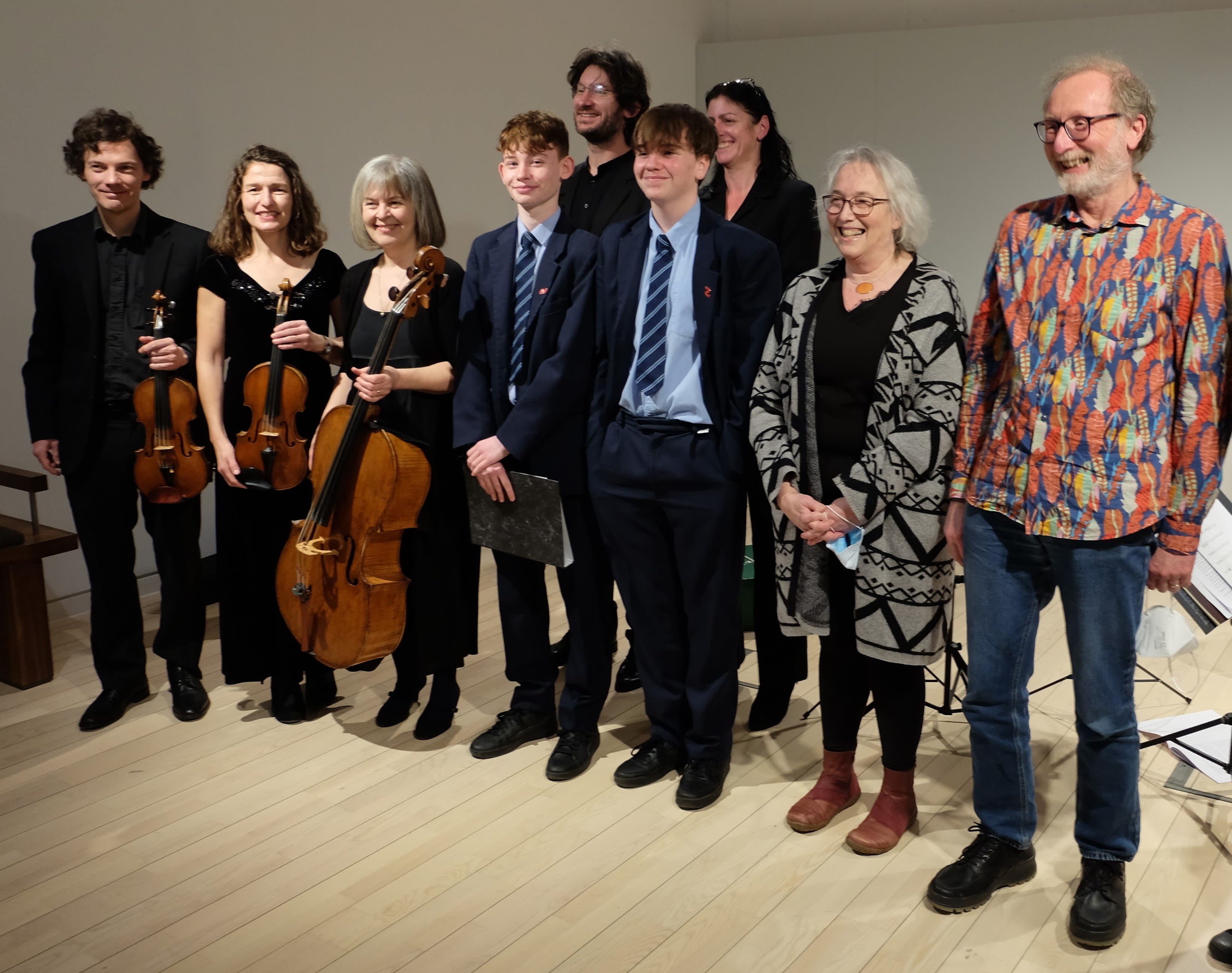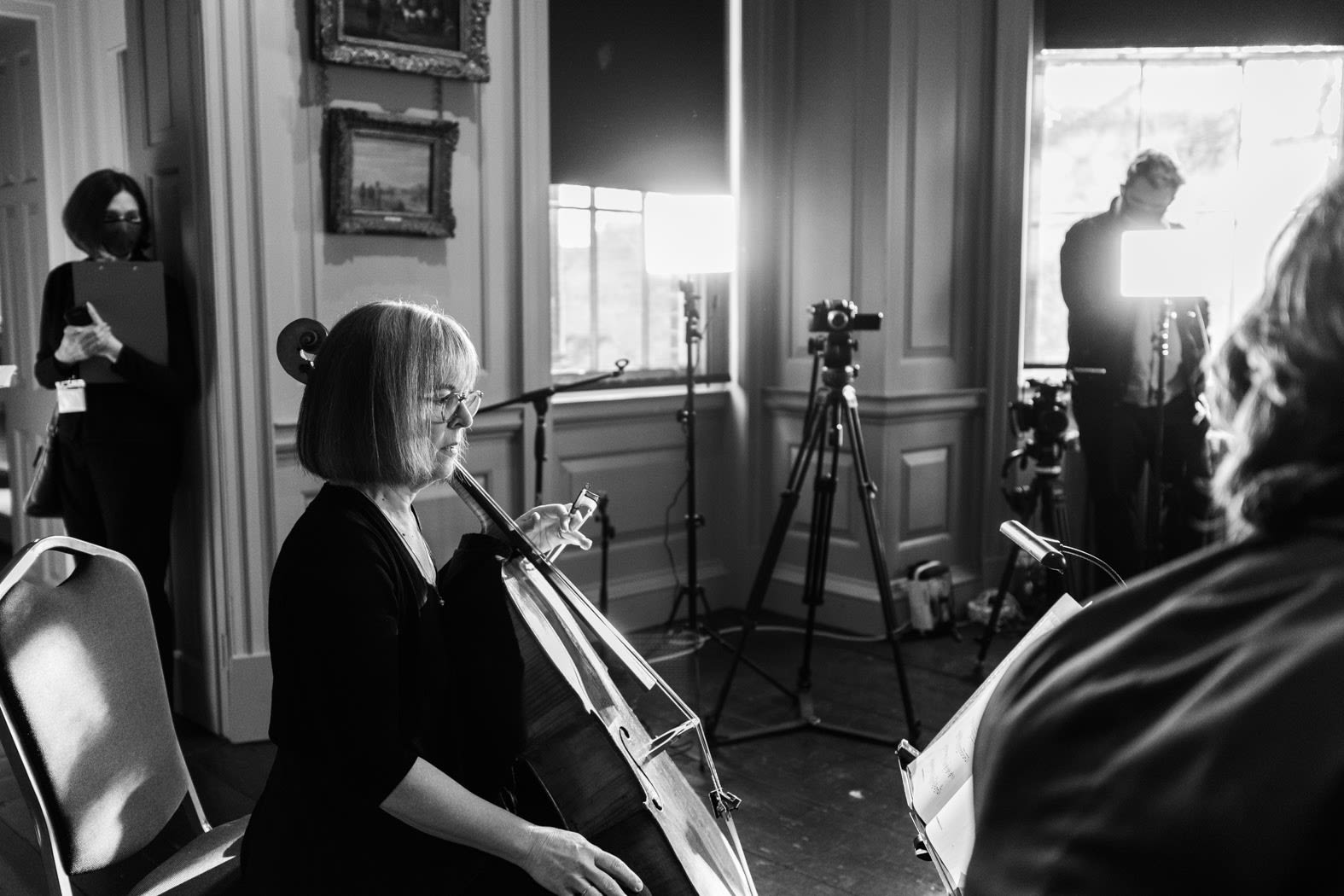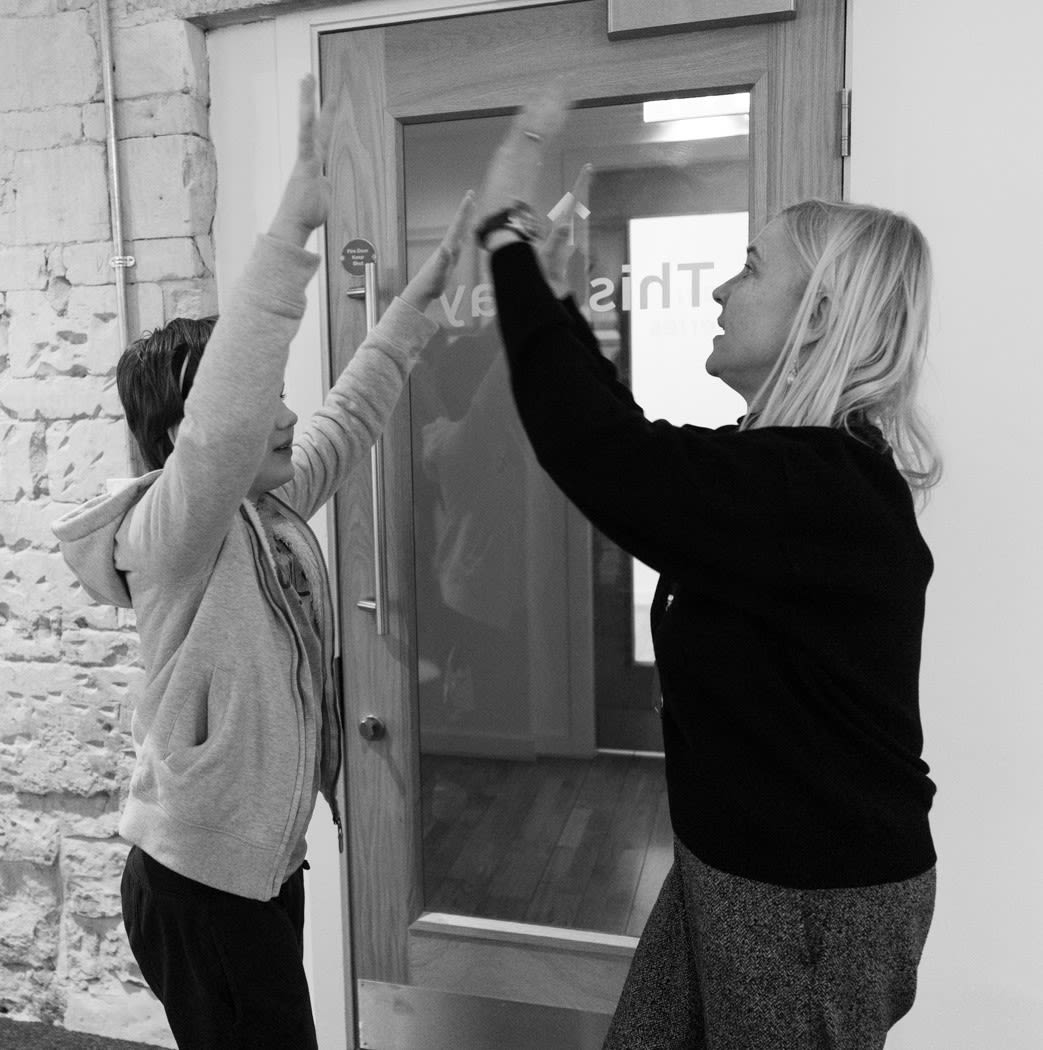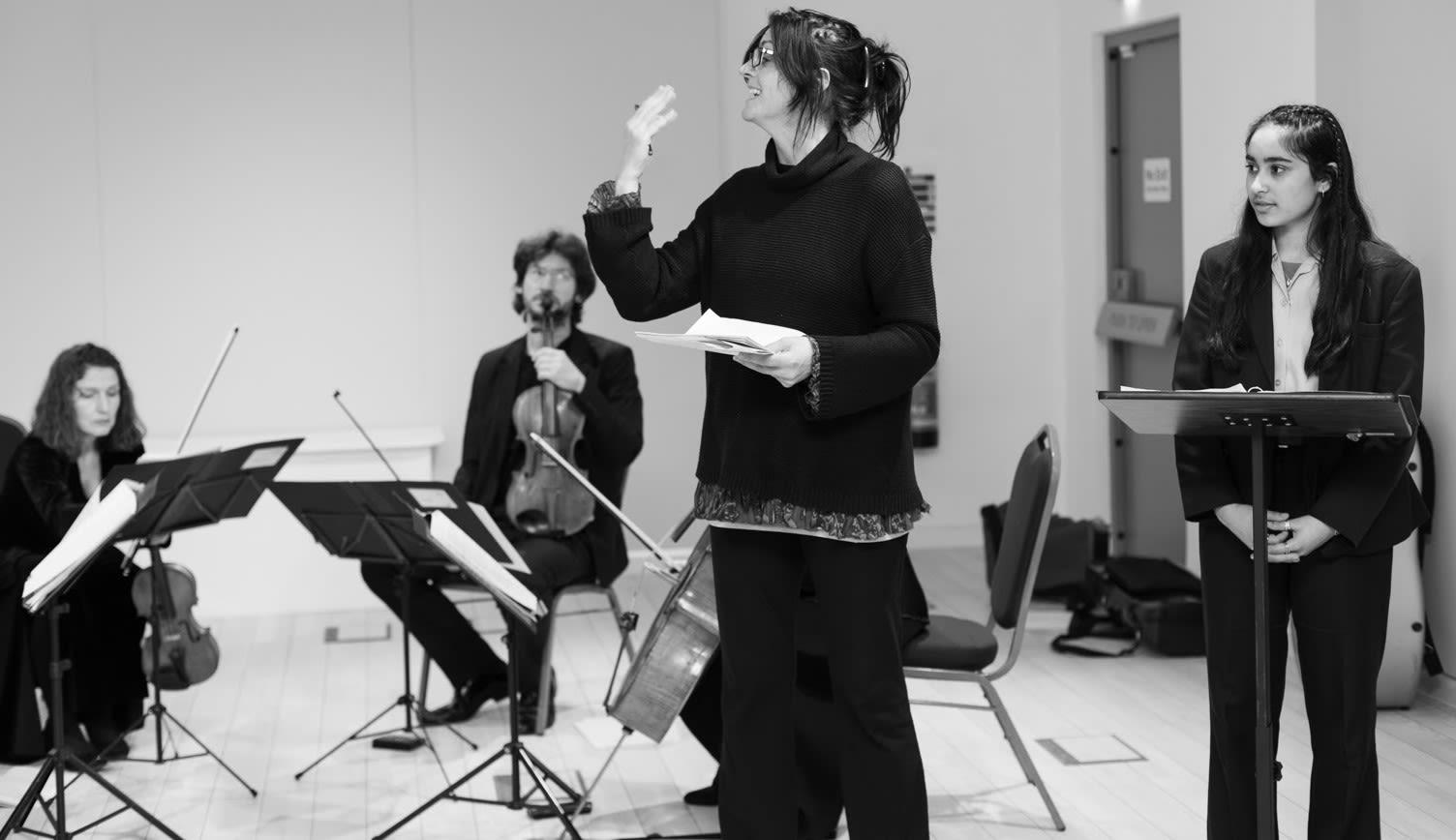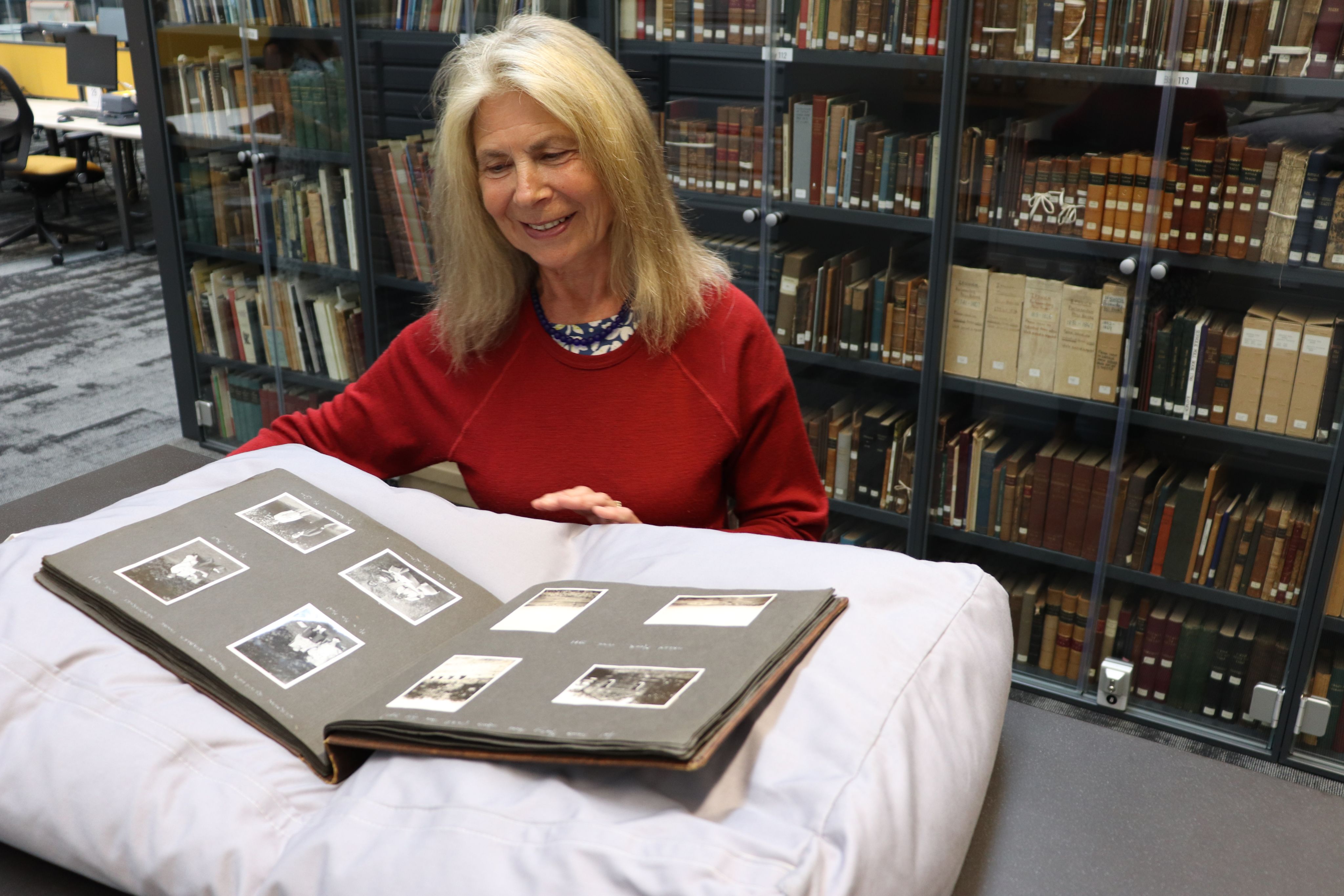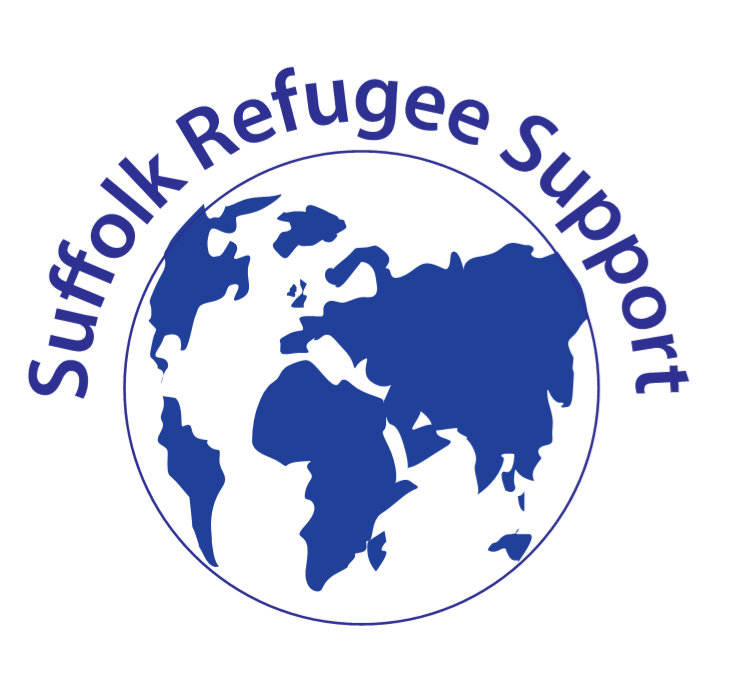 The 1951 Refugee Convention
After the Second World War, millions of people were displaced from their country of birth. To address this, the United Nations Convention relating to the Status of Refugees was written.

The Convention was approved on 28th July 1951. It defines what a refugee is and sets out their rights and responsibilities. Anyone has the right to apply for asylum in any country which has signed the Convention and to remain there until the authorities have assessed their claim. Today, 149 countries have signed up, helping protect over 50 million people.

Suffolk Refugee Support has worked for over twenty years to support refugees and asylum seekers. Their work now supports more than 1000 vulnerable people from all over the world every year
Acknowledgements
'We have to move on' has been an enormous partnership effort by many organisations from across Suffolk and beyond. Suffolk Archives, the National Horseracing Museum, and Orchestras Live would like to thank all our funders and everyone who has participated in and volunteered for the project, and particularly the Ball family for sharing their story.